Straipsnis
Pradinis

Straipsniai
2016-06-09
Pagal vyro figūrą galima nustatyti koks jis bus lovoje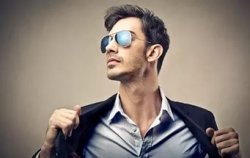 Anksčiau iš pirmo žvilgsnio pažiūrėję į žmogų apie jo būdą galėdavo pasakyti tik profesionalūs ekstrasensai ir fizionomistai. Tačiau dabartiniais laikais tai gali padaryti daug kas.
Kanados psichologė Liza Burbo išvedė teoriją, kurioja teigiama, kad visus žmones galima suskirstyti į penkis pagrindinius psichotipus ir kiekvieną jų išsamiai aprašyti.
Pagrindinėje klasifikacijoje yra trys žmogaus figūros tipai. Pasirodo, kad mūsų kūnas gali daug ką apie mus pasakyti. Juk jis įsimena visas išgyventas traumas, baimes, siekius, norus. Beje, ne tik įsimena, bet ir atspindi...
Rusų psichologai, remdamiesi Lizos Burbo teorija, išanalizavo, kaip galima nustatyti vyro būdą pagal jo figūrą ir sužinoti koks jis bus lovoje.
Seksas su vyru, panašiu į Adrien'ą Brody
Kūnas: liesokas, fragmentiškas. Apie tokį dažnai sakoma: tik kaulai ir skūra. Jis atrodo labai gležnas, sugeba būti nematomas. Lengvai pasimeta minioje arba kompanijoje taip, kad žmonės neprisimena šio žmogaus, ar buvo jis jų tarpe, ar ne.
Elgesys: toks vyras nedrąsus ir kuklus. Jo devizas: "Neišsiskirk!" Įprastai jis save dažnai nuvertina. O labiausiai bijo panikos. Greitai susinervina, netgi dėl smulkmenų.
Seksas: lovoje nemoka imtis iniciatyvos arba to labai bijo. Tokio tipo vyriškiams gali kilti seksualinių problemų, netgi problemų su orgazmu ir potencija. Tačiau visas šias problemas galima lengvai išspręsti. Tokiam meilužiui pakanka sukurti komfortišką psichologinę aplinką.
Tokio tipo vyras labai sunkiai išgyvena neigiamus atsisakymus, ypač sekse. Tačiau jis pats nemoka atsakyti merginai, bijodamas jos neįskaudinti. Su tokiu vyru seksualinė iniciatyva greičiausiai priklausys nuo partnerės.
Seksas su vyru, panašiu į Robert'ą Pattinson'ą
Kūnas: ilgas, gali atrodyti šiek tiek neproporcingas. Ilgos rankos, pakumpę pečiai. Apskritai figūra atrodo taip, tarsi raumenų tonusas būtų labai silpnas, todėl kūnas atrodo netiesus ir neišdidus. Veriantis ir išraiškingas žvilgsnis.
Elgesys: vyrai, turintys panašų kūno sudėjimą kaip Robert'o Pattinson'o dažnai siekia viešumo. Tokie žmonės bijo vienatvės, todėl stengiasi, kad juos suptų kuo daugiau žmonių. Jiems patinka aplinkinių dėmesys ir interesai. Kartais jie elgiasi kaip maži vaikai, reikalaujantys globos. Be to, jie dažnai gali persitransformuoti į aukos vaidmenį.
Seksas: tokio tipo vyrai yra dažnai nepasotinami lovoje. Jiems visada trūksta sekso. Jie dievina seksą, todėl, kad jiems patinka susilieti su kitu žmogumi. Taip pat jiems patinka, kai juos giria lovoje. Jei partnerė rečiau su juo mylisi, jis jaučiasi atstumtas.
Seksas su vyru, panašiu į John'ą Travoltą
Kūnas: apkūnus, apvalus. Figūra primena bandelę arba obuolį.
Elgesys: vyrai, turintys panašų kūną į John'o Travolt'os gali būti labai globėjiški. Jie dažnai ir noriai prisiima kitų problemas ir rūpestingai bando jas išspręsti. Pati didžiausia tokių vyrų baimė – laisvė. Nenuostabu, kad vyrai su tokiu kūno sudėjimu retai kada lieka viengungiais. Jie dažnai veržiasi vesti, sukurti šeimą.
Seksas: vyrai, su tokia figūra kaip John'o Travoltos, Jack'o Black'o ar Kevin'o James'o yra labai jausmingi. Tiksliau, gali būti labai jausmingi sekse, tačiau tokie partneriai, kaip taisyklė, nemėgsta intymaus artumo. Jie labai drovūs. Todėl dažnai jų kuklumas užgniaužia seksualinį potencialą, teikdamas pirmenybę šaltumui lovoje. Padėti atsipalaiduoti ir mėgautis tokio partnerio neišnaudota aistros energija padės rūpestinga ir mylinti partnerė.
Seksas su vyru, panašiu į Leonardo Di Caprio
Kūnas: pakankamai vyriškas, spinduliuojantis jėgą ir valdžią. Netgi jei vyras neturi įspūdingų raumenų, jis vis tiek laikomas vyriškumo simboliu. Dažnai tokie vyrai turi nedidelį pilvuką, kadangi mėgsta alų. Jei jie pasitaiso, jų kūnas pasidaro panašus į kriaušę: liesa viršutinė kūno dalis ir stambi apatinė.
Elgesys: vyrai su panašia figūra kaip Leonardo Di Kaprio dažnai būna energingi, charizmatiški. Jie mėgsta kontroliuoti, būti vadovo pozicijoje ir valdyti aplinkinius žmones.
Seksas: Vyrai, turintys tokią figūrą kaip Leonardo Di Kaprio arba Arnoldo Schwarzenegger'io paprastai ima iniciatyvą į savo rankas. Jiems patinka kontroliuoti procesą ir vadovauti. Jie save laiko nuostabiais meilužiais. Ir iš tiesų, jie yra puikūs viliotojai, kurie puikiai žino kaip patenkinti merginą sekso metu. Kartais tokie vyrai pavirsta seksualiniais manipuliatoriais ir seksą naudoja kaip ginklą, kad pasiektų ko trokšta.